Soil for a backyard garden, Murtoa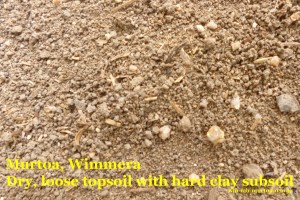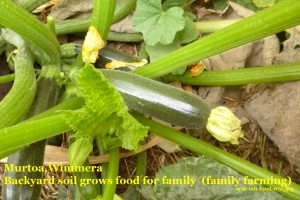 Description: dry, loose topsoil with hard clay subsoil.
Location: flat residential backyard at rural town edge, which had been a farmer's paddock 20 years ago.
Values for this soil:
– grows food – vegetables and fruit – for us to eat
– grows garden plants for us to enjoy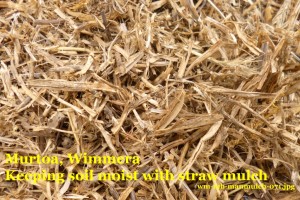 – Grows plants for our hens to fossick around in.
Challenges – and their managements for growing our garden plants in this clay soil:
– Clay subsoil – Requires gypsum to break up soil clods
– Fertility – straw, chicken manure and compost added for growing vegetables and fruit trees.
– Dry topsoil – plants need a lot of watering to grow and fruit, from our rain water tanks and recycled from our air conditioner during the hot weather and sometimes town water as well.
– Water retention – Straw mulch to retain water against evaporation in hot dry summer
See more about
– growing food on Wimmera clays in these Soil Selfies from Horsham and Dimboola
– mulches used to protect soils in Soil Selfies from Werri Beach, New South Wales,
– another soil supporting hens in Soil Selfies from Scottsdale, Tasmania and Darling Downs Queensland.
Credits: Maree Baker, of Murtoa, gives permission for her photos and information to be used under a (cc) license 2015
Editing and page created by Jeanie Clark, enviroed4all®, Warracknabeal, for use in education under a (cc) licence 2015
return to Soil Selfies main listing
page set up 22 August 2015, updated 10 january 2016