What are 'Soil Selfies'?  It's a group of photos of your soil: close-up, in use, with its challenges or management methods. They can be rural or uban soils. They may be  at home, work or recreational place. WIth  comments, they share a soil's story . Search for Soil Selfies in this website  by the drop down menus or from the locations  list.
This project was begun in the International Year of Soils (IYS) and first presented at the IASS Global Soils Week world forum in Berlin in mid-April 2015. It has grown since then and is continuing to grow.  
LInks to completed Soil Selfies are on the main locations list  and on the regional pages, with brief descriptions : Wimmera-Mallee, Victoria, Australia, World.   There is also a page of early examples . Instructions for your contribution are in the lower part of this page.  
Why such a project? The impetus for this project was   1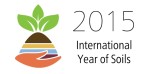 ) to give everyone an easy way to celebrate their soils in IYSoils 2015 and to contribute to  Global Soils Week (GSW) -April 19-23 2015, where the Australian ones were to become a  display.  The longer term reason was: 2) To  continue to celebrate people's soils and 3) to create resource materials for educational use  about soils. 
The first use of Soil Selfies was the photographic display I had been invited by the IASS to present  at the GSW Forum in Berlin. It shared how ordinary peoplje saw and used their soils with the soil scientists, managers and farmers there.  Contributions
received before Easter 2015 went to Berlin for the display.  These and all other contributions since then  have gone into the on-line resource to be gradually published.
What is needed for a contribution? 
4 steps below* to create photos and notes (a  'Soil Selfies') and email them to enviroed4all@gmail.com   ( * It is all here ready to fill in in this doc Soil Selfies instructions form , or to see as a pdf version Soil Selfies instructions form .)
(As soils may vary quickly over land, you may want to do more than one 'Soil Selfies'  to show different uses for different soil types. Please send them separately) :
Choose your soil location!
Take jpg photos of your soil -don't need to be bigger than 2 mB

closeup, to show its detail
show why it matters to you – your use of it
what challenges or management techniques you have with it

Write

notes

to go with it:

title

 for your contribution – your NAME for this soil

location

 of photo –

photo shows topsoil or subsoil, if not obvious in it?
rural or urban
'

landform

' location eg planter box, flat, hill, stream bank etc
location by district name/town/suburb/city/region/country,

describe

 the soil in this photo eg  texture, moisture etc
describe your 

values/uses

 of this soil – the one in your photo first, then any not shown.
describe any challenges/management methods you have using the soil shown in the photos, then any others not shown
permissions and links

your name

 with permission to use your photo and information under a (cc) license.
If you say not to put your name on the web, initials only will be used.

optional  photo of you

 please include a small one if you want it
optional link to your webpage, please include if it shares more about this soil
4 email photos, comments and permissions to enviroed4all@gmail.com  
Thanks for your celebrating and sharing your soils with your completed 'Soil Selfies'.  Please check this website from time to time to see the collection grow!
Jeanie, enviroed4all®, Warracknabeal, Victoria, Australia. 
PS As this is a volunteer activity , it needs your help to suggest to others to add their 'Soil Selfies' too.   Thanks!  
When do  I need these? Any time from now so  I can present them on this website
How many do I need? Unlimited- and from anywhere in the world via the internet! My vision for this resource is longterm and global. The more contributions  I receive, the better this collection will show the variety and similarities in what people think of their soils and current issues.
Those received before April 2015 were printed and fed into discussions and decisions at the Global Soils Week 2015 forum. These photos were used in the first round of Soil Education sessions in the Wimmera and at ag shows, and World Soil Day 2015 and at PIEFA conference 2016.  They are on-line  as a resource base for other educational uses and users.
News release:  Seeking Soil Selfies reprint from Grampians News page 3 March 5 2015, and  Warracknabeal's Jeanie Clark wants Soil Selfies for Global Soil Week in Wimmera Farmer 25 March 2015 and  Soil Selfies FAQs
Continue to  examples:
This section is still under construction, including the 'Soil Selfies' Collection -your contributions ! First,  listing of locations contributed so far
Thankyou to the wonderful people who are already getting their contributions underway! Please keep inviting and helping more people to do so
Thank you for being a part of this volunteer project.  AS A FREELANCE ENVIRONMENTAL EDUCATOR, MY WORK IN CREATING THIS PROJECT and THIS WEBSITE IS UNFUNDED. If you can, please support me … with a DONATION and/or feedback for how the activities in this website wen when you used them.  Thank you
page updated 12 July 2015, 7 May 2016