Soil for growing a forest, Wallup, Wimmera, Victoria, Australia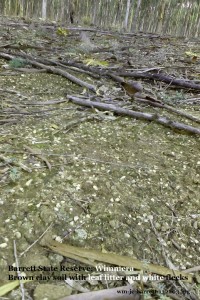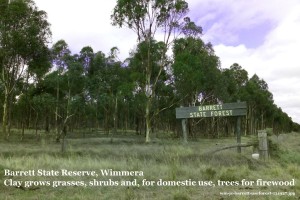 Description:    Grey hard surface soil,
littered with plant debris and white flakes,
covering a brown sandy loam with insect life within it
Location:   flat, Kalkee Plains of the Barrett State Forest, State Flora and Fauna Reserve,
Wimmera Plains at Wallup East on Barrat Road.
Values for this soil:
– Grows habitat as a State Flora and Fauna Reserve,
– a reserve for biodiversity with 68 bird, 4 reptiles, 1 native mammal and 59 plant species recorded on the ALA website* to the end of 2015.
– Grows trees for domestic firewood of Wimmera residents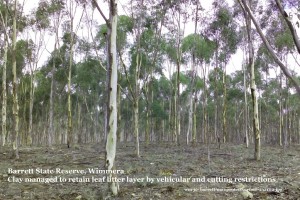 Challenge
In a drying climate to keep the soil providing nutrients and moisture for the trees to grow.
Management is to keep the soil surface intact:
– Only fallen limbs and trees allowed to be taken, no standing trees taken
– No wood with moss or fungi grown is allowed to be taken
– No big machinery allowed in the forest and vehicles are only allowed along defined tracks
See more
* the Barrett Reserve Biodiversity list is on the Australia's Living Atlas with a map showing the location and a list for all species in 1 km in this page.  and in LN Post
– the Barrett Forest from this DELWP 2015 Fire wood collection map with regulations pdf
– more soils supporting forest replanting in Soil Selfies on a Dimboola sandhill and clay plains of the Garden of Earthy Treasures, and on volcanic soils on M'fango Island, Kenya
Credits: Jeanie Clark gives permission for her photos and information to be used under a (cc) license 2015.  Editing and page created by Jeanie Clark, enviroed4all®, Warracknabeal, for use in education under a (cc) licence 2015.
Return to more Wimmera-Mallee Soil Selfies or other locations
page published 30 August 2015, Updated 10 January 2016