Pebbly soils on steep slopes grow forest, Weissenstein Massif, Jura Mountains, Switzerland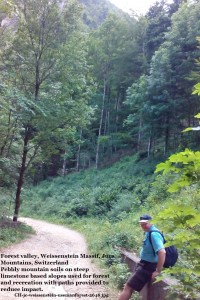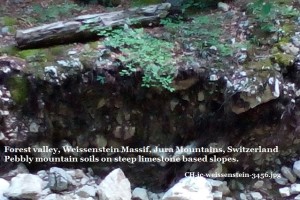 Description:        Shallow pebbly soils
Location:             very steep slopes, of narrow short mountain valley on the south face of the Weissentsein Massif, part of the limestone mountain chain of the Swiss Jura, rising to the north northwest above Solothun in the Aare Valley of Switzerland.
Values for this soil:
– Grows native habitat especially trees and ground cover to provide habitat for native fauna especially birdlife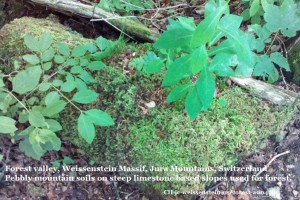 – Gathers water for the Aare River catchment
– Aesthetics – lovely to be in and look at from nearby cities like Solothun
– Recreation – walking , photography and bird spotting
Challenges – and their forest managements for this pebbly soil:
– Very steep slopes,  under snow in winter- To prevent water erosion, the slopes remain covered in forest habitat
– Foot traffic – Gravelled paths through the forest to prevent compaction and erosion of soils and damage to plant life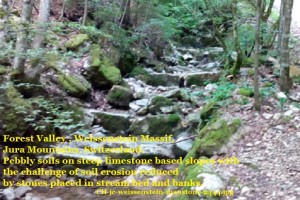 – Loose pebbly structure – Stone – lined stream channels for mountain runoff to run along to reduce erosion
See more Swiss geomorphology and soils maps at http://eusoils.jrc.ec.europa.eu/library/maps/country_maps/metadata.cfm?mycountry=CH and LN post
For a Danish forest soil , see Silkeborg Forest
For an Australian forest soil, see Styx rainforest,  Tasmania
Credits : Jeanie Clark, of Warracknabeal, gives permission for her photos and information to be used under a (cc) license 2015. Editing and page created by Jeanie Clark, enviroed4all®, Warracknabeal, for use in education under a (cc) licence 2015.
Return to Soil Selfies Collection by places
page setup 12 September 2015