Soil as the base for a sports field with grass e.g. hockey at Wycheproof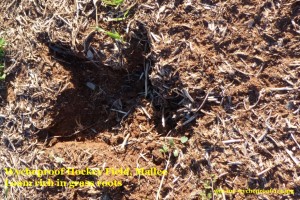 Description:   reddy brown loams
(from the Murra Warra Group* of the Wycheproof Series
in the Charlton Association of the Eastern Wimmera Soils Survey) 
Location:         flat ground in rural town sport area
Values for this soil:
recreation – supporting a flat solid playing surface,
– growing grass used for playing hockey
– as part of a healthy life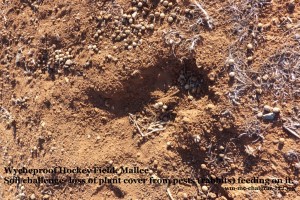 Challenges – and the managements for this soil :
– Soil is dry– before hockey season the soil is watered so it will grow grass
-Not enough nutrients needed by grass l– fertiliser added and grass seeds for a thicker cover than normal with this soil.
– Soils exposed in holes from cockatoos digging up roots, feral animals eating grass, and divets from hockey games- maintenance of grass cover.
See more about
* the Murra Warra Group in the  Wycheproof Series soils from their description on the VRO website . (The sports grounds soils have modified these.)
– facilities supported by soils in the Wycheproof Recreation Reserve and in LN post
– soils supporting rural sports facilities in Soil Selfies from Rifle Butts and Tractor-pull tracks at Warracknabeal, to BMX tracks in Adelaide, South Australia and mountain bike trails in the Silkeborg Forest in Denmark.
Credits: Michael and Barry Clark, of Wycheproof Hockey Club, gives permission for their photos and information to be used under a (cc) license 2015 .  Editing and page created by Jeanie Clark, enviroed4all®, Warracknabeal, for use in education under a (cc) licence 2015
return to Soil Selfies main listing
page set up 12 August 2015, updated 10 January 2016