Soil as 'floor' for Rural Agricultural Exhibition Park, Longerenong, Victoria, Australia.
Description  – fine brown soil (vertosol)
Location – cleared, very flat plains, Longerenong, Wimmera region, Victoria, Australia
Community values/uses for this soil-
Flat foundation for tents and exhibition buildings to stand upon for the  Wimmera Machinery Field Days.
Challenges in using this soil for exhibitions
Lots of feet and machinery traffic cut into fine particles,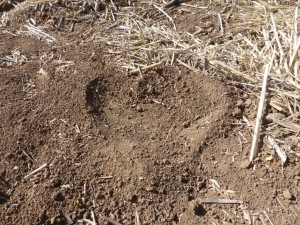 so that when strong winds blow, if uncovered, these fine clays blow as dust
Management to keep soil covered and reduce wind erosion–
The field days site is irrigated to grow grass in early autumn
and the main roads are properly made on top of the clay soil base.
See more
– about the Wimmera Vertosols from this VRO description  and map
– about soil used to support other heavier infrastructure such as a terradome and bridges in the Dimboola Garden of Earthy Treasures and  Box Hill Soil Selfies, respectively.
-about growing a family farm on black clays in this Darling Downs Soil Selfies from Queensland
Credits:  J. C. gives permission for these photos and  their information to be used under a (cc) license . Warracknabeal, Australia, 2015 
return to Soil Selfies main listing
page set up 20 June 2015, updated 10 January 2016