Gilgai soil for sheep paddocks Werrigar East, Wimmera, Victoria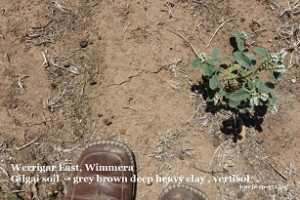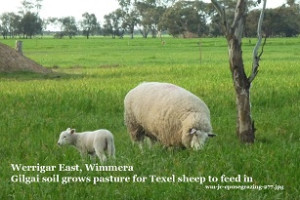 Description: gilgai – grey brown deep heavy clay, (vertosol)
Location: flattish with humps and hollows,
in lower lying Black Box Ground,
Werrigar East, near Warracknabeal, Wimmera region
Our values/uses for this soil in our paddocks :
–  provides us with ground to farm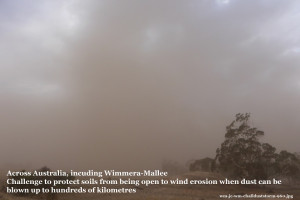 – and produces feed from it for the sheep to graze for farm income.
– especially sustaining our winter feed crop of green feed, for the ewes at lambing
– and sustains native trees (Black Box,  Eucalyptus largiflorens)  for native birds, bees and other fauna
-and these provide shelter for sheep as wind break  in winter and shade in summer
Challenges of farming  gilgai soil:
– Clay soils swell and shrink creating the uneven gilgai landscape across the paddock
– They crack open in summer,
– sometimes open up into sink holes after wet weather,
– and after rain make sticky mud.
– If covering grass is lost, the fine clay particles can be eroded by winds.
Management of the soil to prevent wind erosion:
We aim to keep sheep off the paddock when the ground cover has been eaten, and put them into a  stock containment paddock .
Summer weeds like Heliotrope  grow after rain, so we need to kill or remove them to conserve soil moisture for the next crop.
See more
– about this sheep farm on gilgai soils as a family farm snapshot  and in another dry summer as LN Post
– the Dept. Prim. Ind.'s agricultural values and challenges of these gilgai soils (Vertosols)
– more  soils supporting grazing of stock are in Soil Selfies from Kilmore and Lima South in Victoria,  Long Flat in South  Australia and Mt Poole in Outback New South Wales.
– another Soil Selfies where sink holes can be a problem is from a grain /farmily farm at Jeparit
Credits Jeanie Clark gives permission for her photos and information to be used under a (cc) license 2015. Editing and page created by Jeanie Clark, enviroed4all®, Warracknabeal, for use in education under a (cc) licence 2015.
Return to more Wimmera-Mallee Soil Selfies or other locations
page published 17 August 2015, updated 10 January 2016