Fertile, wet soils grows Giant Trees in the Styx Valley Rainforest, Tasmania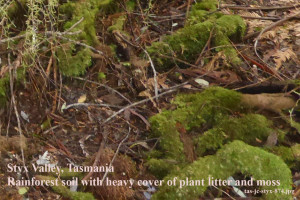 Description:   wet clay loam soils
deeply covered with forest litter layer
Location:        hillsides
of the Big Tree Reserve (Styx State Forest Reserve)
in the 'Valley of the Giants', Styx Valley, Tasmania.
Values for these soils
Grows the

rich biodiversity

of a

temperate wet Eucalyptus rainforest

The

world's tallest trees

Swamp Gum ( aka Mountain Ash) Eucaplytus regnans,

Sassafras and Myrtles

ferns

lichens

and

mosses

and

fungi

etc

from the

soil to the tree top

s these support

native fauna

in great diversity
Rich in

nutrients

Supports the

growth of 6 Giant Trees

* in the Styx State Forest Reserve over 112 ha of soil,

with another 27 elsewhere in the Styx Valley on about 4500 ha of soil.

Carbon storage

Estimated at up to 1200 tonnes p.a. by the Wilderness Society**

Photography

and

walking recreation

for tourists

Education

in the nature of complex ecosystems and biodiversity

Water catchment
Erosion and compaction challenges for these wet soils of the Styx Valley (up to 1500 mm pa, with a minimum month of over 50mm)
– from high numbers of tourists
– removal of forest plant cover (eg under logging out of the reserve)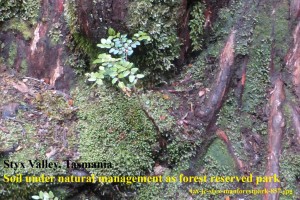 Management of these wet soils as part of the forest reserve management
– Natural events and processes take place
– Fires, even of lighting a cigarette, are not allowed
– Removal of plants is not allowed, (but logging is allowed in other parts of this valley)
– Prepared tracks and board walks have been placed to protect soils from damage by heavy foot traffic.
See more at
* needs of Giant Trees by Balmer et al, Management of Tasmania's Giant Trees at   www.oldforests.com.au/pages/Posters/Balmer.pdf
** Wilderness Society Website   https://www.wilderness.org.au/tasmanias-irreplaceable-forests
About plants especially at Out in the Styx … Valley Forest Reserve http://www.think-tasmania.com/out-in-the-styx-valley-forest-reserve/
Peter Cundall's summary at http://www.abc.net.au/gardening/stories/s744536.htm
The Styx Valley as a self drive excursion with attractions   https://www.wilderness.org.au/styx-self-drive-walking-guide
For different soils, growing different type of forests, visit the Weissenstein Forest Soil Selfies in the Jura Switzerland, or  the Silkeborg Forest Soil Selfies from Jutland Denmark and in LN post
Credits :  Jeanie Clark, of Warracknabeal, gives permission for her photos and information to be used under a (cc) license 2015. Editing and page created by Jeanie Clark, enviroed4all®, Warracknabeal, for use in education under a (cc) licence 2015
Return to Soil Selfies Collection by places
page setup 10 September 2015, updated 9 January 2016