Alluvial, silty river clay on the Murray flats used for irrigated grazing at Long Flat, South Australia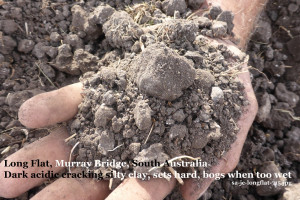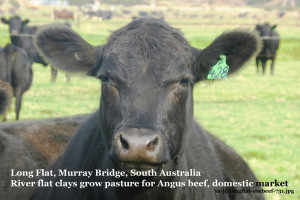 Description:       black silty, cracking clay, from river alluvium, with white flecks ,from limestone cliffs.
now (without regular flooding water), it  sets hard,  is acidic and has a salty subsoil.
Location:           flat, flood plain of the lower Murray River,
separated from the river since 1956 when levees were built for that record flood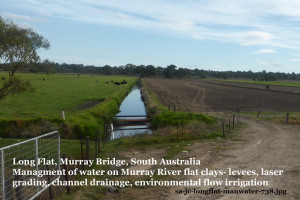 lasered flat with a slight descent away from the river levees
Values for this soil:
– Grows rye grass and clover pasture
– for Angus beef to graze for the domestic market
Challenges for this flood plain soil, lacking in natural flooding,
– Soils have developed problems of acidity and salinity due to lack of annual flushing
– Dry soils crack
– When irrigation water lays, the soils now become too wet and bog equipment
Managements for this alluvial soil
– Urea and gypsum were also tried to remedy soil problems, but the regular watering has been found to have the greatest beneficial effects.
– Environmental flows along the River are now pumped onto the fields three times a year
– Laser grading of paddocks downwards away from the River helps flood irrigation
– Channels dug at paddock ends draw excess water, other channels return it to the River, to drain soil and reuse water
See more about issues and values and photos of these alluvial flat soils in this 2013 Regional Development study Lower Murray Flood Plain Land Use Study and Development Plan Review 2013 
Visit another alluvial flat soil being irrigated in this family farm Soil Selfies on the upper Danube Valley, Hurbanova Ves, in Slovakia.
Credits : Jeanie Clark from interview of Long Flat farmer who gave permission for photos and information of his farm to be used under a (cc) license 2015
Editing and page created by Jeanie Clark, enviroed4all®, Warracknabeal, for use in education under a (cc) licence 2015
return to Soil Selifes location page
page set up 29 November 2015, updated 9 January 2016