Strong cores for healthy soil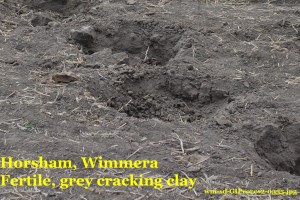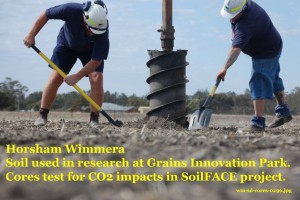 Description –  Fertile, grey cracking clay
on a broad-acre cropping research paddock
Location –   Flat Wimmera plain
at Victoria's Department of Economic Development Plant Breeding Centre, Horsham
DEPI values for this soil: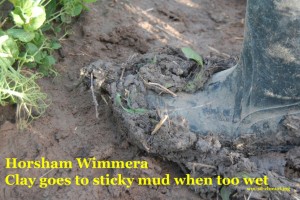 – This soil is great for broad-acre crops when it receives adequate water.
– soil is on a research farm where a range of studies are carried out on soils and plants.
– These cores are part of the SoilFACE project which tests the impacts of elevated CO2 on soils – three different soils from three different parts of Victoria.
Challenges  of this soil
– This grey clay can be almost impossible to manage when it gets too wet – machinery bogs easily and photographers find it hard to walk across it.
– It is very fine and when it gets too dry, becomes dusty and liable to erosion, especially by wind.
See more
– about this PICCC project at http://www.piccc.org.au/research/project/252
– about research on soils in these Soil Selfies growing vegetables and macadamias by the Gatton Research Station in Queensland, Australia
– about farmers conducting their own small-scale research on soil managements in these Soil Selfies from the Tree House in Glen Waverley, the Koute de Tyon in France
Credits: Horsham DEDJTR Communications Advisor, Simone Dalton gives permission for her photos and information to be used under a (cc) license 2015; Editing and page created by Jeanie Clark, enviroed4all®, Warracknabeal, under a (cc) licence 2015
page set up 4 April 2015. updated 10 January 2016