White sand of beach and dunes at Semaphore Beach, Adelaide, South Australia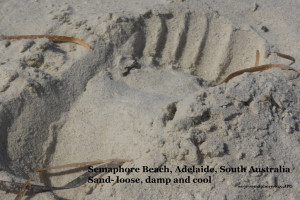 Description:      A damp cool loose deep sand
Location:           beachside flat into steep low dune parallel to the water.
Values for this sandy soil:
– Protection of coast from erosion.
– Tourist pathway to access the beach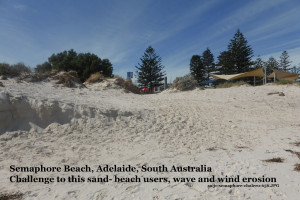 Erosion challenges to this sandy soil
– Damage from constant treading of visitors' feet
– Wind erosion from dominant westerlies heightened by climate change
– Wave erosion at high tide events increased by climate change
The management of sand in these beach dunes is to
– specify access pathways across the dunes to the beach,
– Install breakwaters to reduce the effects of strong waves
– Retain grass cover on dunes to protect against wind
– Replenish the beach sand from other sites when necessary.
See more about Sempahore Beach management in "Adelaide's Living Beaches: A Strategy for 2005-2025" by  the Department for Environment and Heritage, in Coastline No. 35 December 2005, available on the web as "Coastline 35"
For challenges from wind drifted white sands, on the lunettes of an ancient lake, visit the Pine Plains Snowdrifts Soil Selfies from the Mallee, Australia
Credits: Jeanie Clark, of Warracknabeal, gives permission for her photos and information to be used under a (cc) license 2015
Editing and page created by Jeanie Clark, enviroed4all®, Warracknabeal, for use in education under a (cc) licence 2015
Go on to visit other Soil Selfies from the location page
page published 29 November 2015, updated 9 January 2016