Link-List of Soil Selfies from Queensland, Australia
Discover Soil Selfies – soils people have at home, work or play, and how they are used and valued -contributed from Queensland places. These Soil Selfies are grouped by: food for the world, family farming, natural environments, recreational places and supporting buildings and infrastructure.
Soils grow food for the 'world'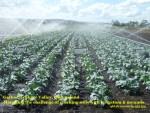 Gatton Research Station, Lockyer Valley, Vertisols for Vegies in irrigated vegetable fields on fertile black soils.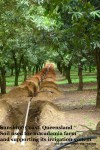 Sunshine Coast, southeast Queensland,  Soils for Macadamias, clay soils used previously for producing pineapples provided with deep irrigation for Macadamia Nut production.
Soils grow food for families (family farming)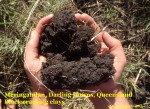 Meringandan, Darling Downs– black cracking clays in a backyard family farm are managed for changes in moisture/ shrinkage and expansion.
Toowoomba, Darling Downs – red basaltic clay in backyard urban garden (family farm) is managed for fertility, and soil moisture
return to Soil Selfies main listing or Australian or global lists
Instructions for contributing your soil to this collection are on the main Soil Selfies page
page updated 31 March 2016