Solid Clay for building Rifle Butt
Location:   flat plain
at Warracknabeal Rifle Club
Values for this soil:
The clay behind the rifle butt is the building material for the mound. This was dug up and created decades ago.
The clay ground in front of it to a couple of hundred metres was also dug up at selected distances and mounded into much smaller shooting mounds for shooters to lie on at presrcibed distances.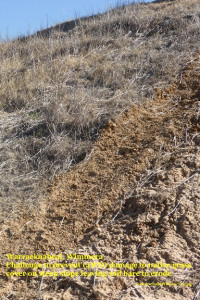 Management  of this clay rifle range today is about maintaining the mound which was constructed decades ago.
It was packed down firmly and is holding up well.
The challenges
– Lead bullet shot , being small, does not penetrate far into the soil.  – It is recovered without damaging the butt.
– Native grasses have colonized some of the steep slopes to protect it – as shown in the photo
– 4WD illegally entering and using the butt are the greatest danger in destroying this protective cover and opening bare soil to erosion – as shown in the photo – this is the greatest challenge.
See more
– another clay mound constructed for sport in the  BMX circuit Soil Selfies from Adelaide, South Australia
– building with clay bricks in the mud brick home at Warracknabeal Soil Selfies from Victoria.
– about managing clay soil shrinkage and movement in the Box Hill Bridges Soil Selfies from Victoria
– about fine clays exposed to winds and rains in danger of soil erosion in the Werrigar Soil Selfies and in LN post
Credits : Photos, interview, editing and page created by Jeanie Clark, enviroed4all®, Warracknabeal, for use in education under a (cc) licence 2015  Greg Burke, of the Warracknabeal Rifle Club, gives permission for these photos by Jeanie Clark and information to be used under a (cc) license 2015
Return to Soil Selfies Collection by places  from Wimmera-Mallee
page setup 12 July 2015, updated 10 January 2016