Vertosol Soil for a vintage tractor pull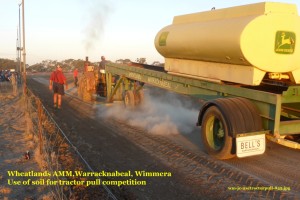 Description:        fine cracking clays
Location:            demonstration flat paddock at Warracknabeal Agricultural Machinery Museum
Values for this soil:
– Soil as floor on which to display machinery
– Hard, flat slipping surface on which to drag a weight (skip) for a dryland tractor pull recreational event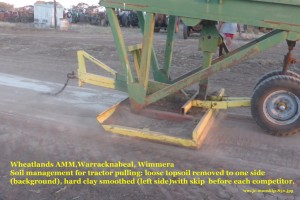 Management to prepare the surface of the fine clay subsoil for the skip to be pulled steadily over it:
– Removing, to one side, topsoil of about 30cm of plant matter (e.g. stubble) and fine loose clay.
– Grading and sliding skip over deeper harder drier clay subsoil, into a flat and 'shiny' surface
– Repeated flattening of this with the skip dragged full length before each next competing tractor.
– Topsoil is replaced annually and cropped, as any minimal damage will repair itself.
– Some water applied to aid slipping, in the past, was found to not be necessary in the last big drought.
 See more
– about the Wimmera Vertosols from this VRO description  and map
– about Wimmera soil used to support a terradome Dimboola Garden of Earthy Treasures Soil Selfies.
-about soil used as a hard surface for sport (BMX circuit) in the Port Adelaide Soil Selfies from South Australia
Credits: Jeanie Clark, of Warracknabeal, gives permission for her photos and information to be used under a (cc) license 2015; Editing and page created by Jeanie Clark, enviroed4all®, Warracknabeal, under a (cc) licence 2015
Return to Soil Selfies Collection by places to Wimmera-Mallee
page setup 9 April 2015, updated 10 January 2016