e.g. 3 with 2 photos sent, one showing close-up detail of soil and a challenge and  the  second  showing the use –
Gilgaied soils of sheep paddock.
Description  – gilgai – grey brown deep heavy clay, (vertisol)
Location – lower lying Black Box Ground, Werrigar near Warracknabeal, Wimmera region, Victoria, Australia
Our

values/uses

for this soil-

main soil of this paddock providing us with

ground to farm

– graze sheep for sale.
sustains our

winter feed

crop- green feed especially at lambing
sustains

native trees

(Black Box,  Eucalyptus largiflorens)  providing

shelter

for sheep – wind break  in winter , shade in summer
Our

challenges/managements

using this soil to produce sheep-

clay soils swell and shrink =

crack open

in summer,
if covering grass is lost, the clay particles can be

eroded by winds,

so we aim to keep sheep off when the cover has been eaten down like this, and use a stock containment paddock.

Summer weeds

like Heliotrope after grow after rain, so we need to kill or remove them to conserve soil moisture for the next crop.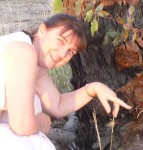 J. Clark gives permission for this photo and information to be used under a (cc) license . Warracknabeal, Australia, 2015  See more about our sheep 
Go on to next example
return to Soil Selfies examples  or to instructions page
page set up 20 March 2015