Reddy basaltic soil (Ferrosol) producing food and beauty on family farm in Scottsdale, north-east Tasmania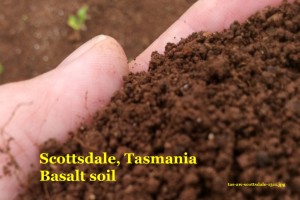 Description:    topsoil – fertile reddy basalt soil
A Ferrosol (formery Krasnozem) rich in iron (hence colour), clay and the ability to fix phosphorus, so great for growing food.
Location:         hilltop in northeast Tasmania
(These ferrosols are often found on hilltops, from their formation over 20-50 million years.)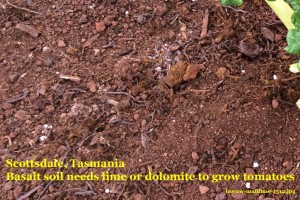 Family farming values for this soil:
– Food growing: Veggies (beans, snow peas, peas, kale, carrots and zucchini this summer) and fruits (berries) for us to eat direct from our garden ,and animals eg hens for eggs. i.e. soil supports us in family farming
– Aesthetics : Grass around our house makes it look great. It grows very fast, especially in Spring when it needs to be cut every four days; Beautiful trees and flowers also grow in this soil making our place a joy to live in and share with visitors and as photos on  FB!
Challenge – and its management- for growing tomatoes in this fertile soil:

Challenge – Yellowing patches on tomatoes?
PH is wrong for tomatoes!
Management – Adding a little dolomite/lime to this soil fixes it.
See more
1 Ferrosols across northern Tasmania, including Scottsdale, and their environment in this pdf  "'Red soils' classified as Ferrosols and also known as Krasnozems"  and in a general map Dominant Soil Orders of Tasmania by Bill Cotching 2015.
2 The soils of north east Tasmania (on p16) and their agriculture as a pdf "Climate, soils and the advantages of North East Tasmania for irrigated agriculture", by Dr Lee Peterson, Macquarie Franklin, Oct. 2012
3 Detailed soil map with soil profile photos as pdf at DPIWE  "Tasmanian Viticulture soils and geology"
4 For a Kenyan volcanic soil also used  by a family to produce food, see the M'fango Island Soil Selfies.
5 discussion in LN post
 Credits :  Ann Wilson, of Scottsdale, gives permission for her photos and information to be used under a (cc) license 2015.
Editing and page created by Jeanie Clark, enviroed4all®, Warracknabeal, for use in education under a (cc) licence 2015
Return to more Soil Selfies in other locations
page published  25 September 2015, updated 9 January 2016