Link-List of Soil Selfies from Tasmania, Australia
Discover Soil Selfies – soils people have at home, work or play, and how they are used and valued -contributed from Tasmanian places. These Soil Selfies are grouped by: food for the world, family farming, natural environments, recreational places and supporting buildings and infrastructure.
Soils grow food for families (family farming)
Scottsdale new family farm – hilltop ferrosol supporting flowers, vegetables, fruits and small animals
Soils are at the base of natural environments, native habitat and biodiversity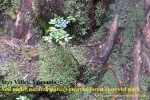 Valley of the Giants, Styx State Forest Reserve  – wet clay loams grow rainforest in a rich biodiversity and forest management.
return to Soil Selfies main listing or Australian or global lists
Instructions for contributing your soil to this collection are on the main Soil Selfies page
page setup 10 September 2015