'Digging in for a spin' – soil inspiring science and photography at the Grains Innovation Park, Horsham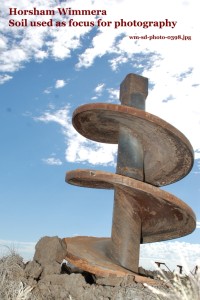 Description –      Grey clay on broad-acre cropping paddock
Location –          Flat plain on broad-acre cropping paddock at the Victorian Department of Economic Development's Plant Breeding Centre, Horsham.
My values for this soil:
– It is not just about science or food production, but soil can also produce an artistic image, a source of inspiration….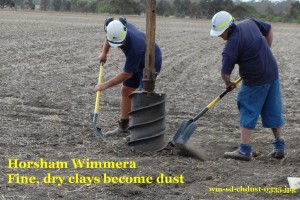 –  Government scientists have used this paddock for learning more about our grey clay soils since over the past few decades.
– This property has helped to make scientific discoveries to help grow crops more productively, to better cope with disease challenges and to improve the performance of crops by breeding new and better varieties.
My challenges/managements for this soil as a photographic subject –
–  the soil colour reflects light differently under sun and cloud – getting the right light for a photo of this soil was challenging
–  The soil can become very fine and fragile when dry so it can create dust and cause erosion if there is no ground cover during the summer months. Dust is not good for cameras!
See more about
– the research shown in the photos at the DEPI research centre Horsham
– research on soils within Soil Selfies by organisations in this Gatton Research Farm Soil Selfies from Queensland and by family farmers like this Treehouse Garden in  suburban Melbourne one, rural Wimmera plains one from Garden of Earthy Treasures, and rural mountains from the Koute de Tyon in the Savoie mountains of France ( and also en francais)
– beautiful soil photos in each of the Soil Selfies of this collection 
Credits Horsham DEDJTR Communications Advisor, Simone Dalton, gives permission for her photos and information to be used under a (cc) license 2015
Editing and page created by Jeanie Clark, enviroed4all®, Warracknabeal, for use in education under a (cc) licence 2015
Return to more Wimmera-Mallee Soil Selfies or other locations
page published 17 August 2015, updated 10 January 2016