Reddish soil for broad-acre farm on Bulloak/Buloke country, Bangerang, Victoria, Australia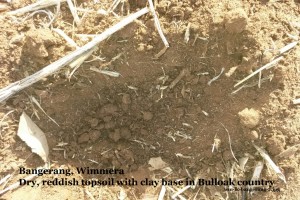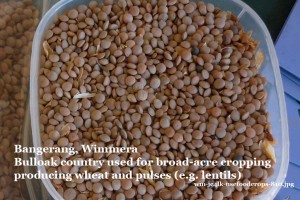 Description:          Reddish colored topsoil, lacks moisture in current drought conditions. It has a clay base below the reddish soil, which holds moisture when over 80mm rain is received
Location:         flat Wimmera plains in Bulloak/Buloke (casuarina) country at Bangerang
Values for this soil: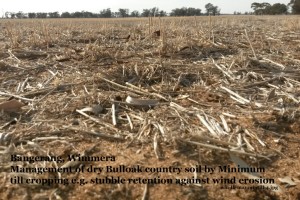 – Commercial broad-acre family farm producing foods for domestic and global markets: wheat  and pulses
– Grows some lovely Bulokes (Casuarinas) naturally and Emu plants (Eremophilas) we planted
– Grows some flowers, fruit and vegetables in the home garden
Challenges – and managements – for this soil for agricultural production especially in a dry season:
– Wind erosion – Minimum till farming management methods with
1 stubble left in ground and
2 crops sown dry
– Nutrient depletion – managed by
1 urea applied to the soil to add nitrogen and
2 pulses in rotation add nitrogen to the soil
– Hard ground – gypsum phosphate is added to make the clay subsoil more easily worked.
See more
– about the soils of the eastern Wimmera as a map  and on this farm from VRO webpages
-about the native trees on this farm from webpages for eremopholias and Bulloaks
– soils for grain farming on the Wimmera Plains from the nearby Batchica Soil Selfies
– links to Sustainable Development Goals in this LN post
Credits – Lindsay Koschitzke, of Warracknabael, gives permission for their photos and information to be used under a (cc) license 2015For more about Bullokes.  Photos, research and page created by Jeanie Clark, enviroed4all®, Warracknabeal, for use in education under a (cc) licence 2015.
Return to more Wimmera-Mallee Soil Selfies or other locations
page published 30 August 2015, updated 10 January 2016