Urban clay soil for a home and garden, Sunbury, Victoria, Australia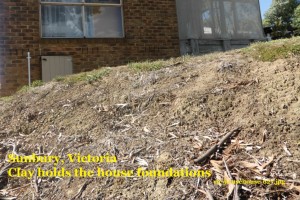 Description:    dry yellow clay, garden soil
with remnant bits of building materials
Location:         large, slightly sloping backyard
with one small steep exposed slope
in hilly outer Melbourne suburb that was rural about 20 years ago
Values :
– Holds up the foundations for the house, garage and garden recreational infrastructure
– Trying to begat some life with grass cover and other hardy plants
– for aesthetics and recreation
Challenges of this clay soil – and management of it:
–  hard surface to dig through – only attempted in some small improved beds.
– dry – only attempt to grow hardy plants in small improved beds
– requires a lot of work/time – proper overhaul will happen sometime in the future.
– Steep batter of open clay – as it is stable hard clay, left as is.
See more about issues and values of clays in urban backyards at these Soil Selfies:
– hard, shrinking, moving clay problems in Box Hill Bridges Soil Selfies
– creating topsoils over clays for backyard family food farming In Glen Waverley artichokes Soil Selfies
– links between urban clay Soil Selfies discussed in this LN Post
Credits: G. Hanley- Smith, of Sunbury, gives permission for the photos and information to be used under a (cc) license 2015
Photos, editing and page created by Jeanie Clark, enviroed4all®, Warracknabeal, for use in education under a (cc) licence 2015
return to Soil Selifes location page
page set up 24 November 2015