Manyana, mud soils in a backyard, New South Wales, Australia
Description:  A heavy clay soil, often red or yellowy ochre, from a temperate rainforest area. After rainfall, the wet clay stains and is very sticky.
Location: Garden and scrub bushland of a semi-rural, southern NSW small coastal village
Values for this soil:
– grows a coastal scrub bushland naturally
– home vegetables and fruit for our own use – urban family farming.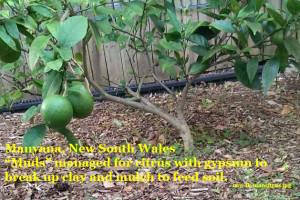 Challenges of a clay soil that is too heavy for food production – and its management:
Fruit trees

– periodically apply gypsum to break up clods
– add mulch for organic matter to the topsoil.
Vegetables  –
– raised garden beds on the clays
– imported soil more suited for vegetables
– regularly add compost and potting mix to feed the soil .
See more
– for an aerial view of this town see this photo
– Compare challenges and managements for coastal soils used for 'family farming' with this sandy coastal Soil Selfies from Werri Beach in New South Wales  or this sandy loam from Apollo Bay, Victoria.
Credits: LJ Larri, of Manyana, gives permission for her photos and information to be used under a (cc) license 2015 Editing and page created by Jeanie Clark, enviroed4all®, Warracknabeal, for use in education under a (cc) licence 2015
return to Soil Selifes location page
page set up 18 June 2015, updated 9 January 2016