Soil producing a xericulture food forest, Dimboola, Wimmera, Victoria, Australia

Xericulture? Permaculture in a flat dryland environment.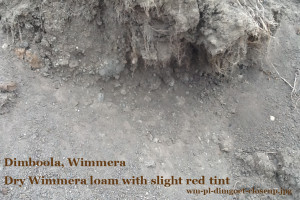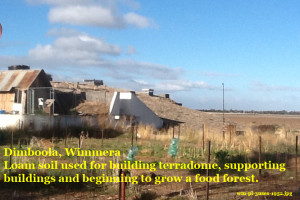 Description:       dry Wimmera loam with a slight red tint from the rise, sourced from dam bank
Location:              on a slight rise on the Wimmera plains
 Our Family uses/values this loamy soil as a:
1  solid foundation to build a xericulture food forest upon which does not crack or drift.
2  building material from the dam used to build the Terradome.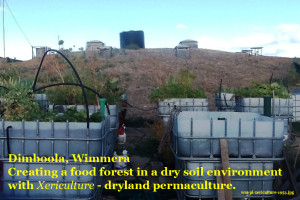 3  foundation  that supports the
– permaculture – Xericulture raised veggie beds
– weather station,
– ham radio mast,
– aquaculture ring ponds being installed with potatoes in styrofoam boxes at the front of the terradome
– ponds for aquaculture with yabbies and silver perch with catfish- next to the terradome.
– the 'chook cathedral' which will fertlise the aquaculture.
Managements for the challenge of becoming self-sufficient on a flat, dryland soil-
We are creating The Garden of Earthy Treasures, the first Xericulture Food Forest with
– Aquaponics,
– Heirloom veggies,
– fruit trees and
– Boosh Foods!
See more about the xericulture at the Garden of Earthy Treasures in its family farm snapshot
Some more soils being managed by permaculture principles are from the Koute de Tyon, in the Savoie, France (also en francais) , Olambo's Paradise Farm on M'fango Island Kenya and Treehouse garden in Glen Waverley Victoria.
Credits Paul Lehmann, of the Garden of Earthy Treasures, gives permission for his photos and information to be used under a (cc) license 2015
Editing and page created by Jeanie Clark, enviroed4all®, Warracknabeal, for use in education under a (cc) licence 2015
Return to more Wimmera-Mallee Soil Selfies or other locations
page published 8 August 2015, edited 2 September 2015, updated 9 January 2016