Link-List of Soil Selfies from Victoria, Australia

Discover the soils people have at home, work or play, and how they are used and valued – contributed from many Victorian places. These Soil Selfies are grouped by: food for the world, family farming, natural environments, recreational places and supporting buildings and infrastructure.
Soils grow food for the 'world'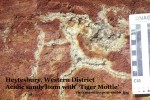 coastal -Western District – Simpson – acidic sandy loams over colourful iron-rich "Tiger Mottles" deep in the profile produce grass for dairying with challenges of water logging in a coastal environment.  
Soils grow food for families (family farming)
Rural, North east Victoria – Lima South 'Good farmers know  the potential and limitations of their soils', like this granitic 'chocolate' friable soil , improved with poultry manure to produce much food for the household.
rural, Northern Victoria– Kilmore,  loam soil with sodic challenges is managed as a vegie patch with the addition of compost, watering and mulch.  Also used for children's education in soil management.
rural, Northern Victoria– Kilmore Dry sodosol grows fodder for stock paddock, also used for children's education in soil/farm management and caring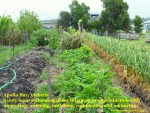 rural town, Western Victoria –Apollo Bay .  This rich sandy loam connects children to soils on their school farm, producing many vegetables and herbs continuously for healthy school food and learning. This requires much imput of compost and mulch.
coastal town- Gippsland – Marlo, with local compost added to sand  plentiful family vegetables and herbs grow for the family's meals.

Melbourne hilly suburb-  Glen Waverley -sandy loams over clay subsoil in 3 soil types, managed by plots and permaculture experiments to get the  best results for growing a variety of foods, eg artichokes, in a backyard family farm.

Melbourne coastal suburb  – Williamstown – sandy loam grows native vegetation and some food plants eg lemons, using leaf litter for mulch against drying of summer

Soil supports our recreational places
Rural northern Victoria-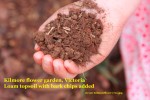 Kilmore fairy flower garden  challenge of using dry sandy loams for a mixture of flowers and their differing needs, to create a place of learning, relaxation and enjoyment.
Soils support building and infrastructure
Rural , Gippsland  city –Warragul, challenges and management of an imported anthroposol when creating a new garden for a newly established home.

 Melbourne hilly suburbs –Box Hill landscaping, preparations made for a new  garden, after a long established home and garden has been demolished and is being replaced by a new one.
 Melbourne hilly suburb -Box Hill bridges, The shrinking and movement of clay soils are a challenge for any infrastructure built into it. This can be managed for pylons supporting bridges, regardless of their size, and whether the infrastructure is for pleasure or business.

 Melbourne outer suburbs -Sunbury   A heavy clay soil supports house and garden infrastructure foundations,  but is challenging for plants due to the  loss of topsoil when converted from grazing to residential land use even after a couple of decades.
WImmera-Mallee – see separate Wimmera-Mallee page for listing of over 20 Soil Selfies
return to Soil Selfies main listing or Australian or global lists
Instructions for contributing your soil to this collection are on the main Soil Selfies page
Latest update 7 January 2016