Collaroy, Boslers backyard garden of trees, flowers and vegetables for food, pleasure and memories, New South Wales, Australia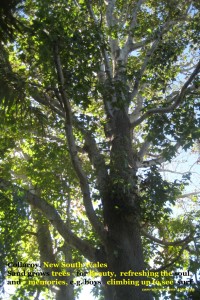 Description:  sandy,
Location: Collaroy Plateau
– on Hawkesbury Sandstone high ground above the northern beaches of Sydney
Values for this soil:
My soil is the foundation for our family's life and home on the Collaroy Plateau since the 1950's.
It is full of memories in trees, flowers, herbs and pots, of my children growing up and my husband on our verandah.

 This enhances my life and gives me strength.
My backyard is my meadow – it refreshes me;
Here nature heals me;
This is where I go to solve a problem


My soil gives life to the plants and grows food, flowers and memories in the garden of my home.
The sandy soil is easy to dig in or move into pots to work from a wheelchair on the verandah of the house.
Challenges for this sandy soil and how we managed it:

Grew a scrub when we bought it for our home over 60 years ago
– we had to clear trees and stumps off it.
Dry on top
– but holds moisture underneath, and is easily worked.
Poor in nutrients for the plants we wanted in a suburban garden
– but with compost added regularly over the years, and dead plants dug into the soil, it absorbs their nutrients well and nurtures the garden.
See more of this personal story of creating memories through soils values in  this  Frederick Meretith Descendant Group article 2.56 mb pdf Plants and Memories- values of my soil   and in LN Post
For more personal statements of the integral value of soils to people,  visit the family farms at M'fango Island Kenya ("I am married to my soil"),  Hurbanova Ves, Slovakia ( "The soil I made my first steps upon") and Dimboola, Wimmera-Mallee, Australia ("Garden of earthy treasures")
Credits: Nan Bosler, of Collaroy, gives permission for her photos and information to be used under a (cc) license 2015 Editing and page created by Jeanie Clark, enviroed4all®, Warracknabeal, for use in education under a (cc) licence 2015
Go on to visit other Soil Selfies
Page set up 18 June 2015, Updated 9  January 2016