Link-List of Soil Selfies from New South Wales, Australia
Discover Soil Selfies – soils people have at home, work or play, and how they are used and valued -contributed from New South Wales places. These Soil Selfies are grouped by: food for the world, family farming, natural environments, recreational places and supporting buildings and infrastructure.

Soils grow food for families (family farming)
 Collaroy, Sydney coastal area, for plants and memories , sandy soils  in a backyard garden of trees, flowers and food plants, created from removal of scrub over 50 years ago.

Manyana, rural coastal NSW,  mud soils, in a backyard garden family farm of fruit trees and vegetables adding gypsum, compost and mulch and raised beds

Werri Beach, rural coastal NSW,  sandy soil growing family food garden and mulched with bark chips
Soils are at the base of natural environments, native habitat and biodiversity
Calalloo Creek, Outback NSW, sand forms an intermittent stream channel. When it runs , the sands are moved, but also are permeable and water infiltrates deep below and supports large River Red Gum Trees which in turn help to hold the sand in place.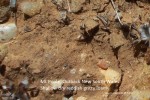 Mt Poole, Outback NSW has shallow rocky soils derived from silcrete and mudstone which grow native plants on an outback sheep station. Efforts now being made to conserve a rare indigenous plant will also help retain the soil.
Perry Sandhills in far southwestern NSW is a reserve of steep sand hills which have partially buried huge River Red Gum trees and attracts tourists.
return to Soil Selfies main listing or Australian or global lists
Instructions for contributing your soil to this collection are on the main Soil Selfies page
page updated 2 January 2016