Soil for mud brick house, Warracknabeal, Wimmera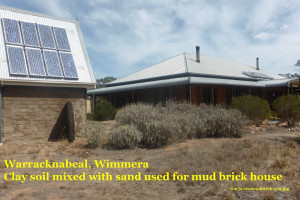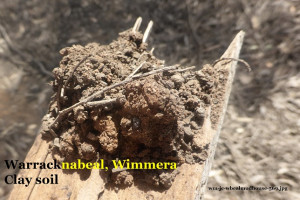 Description:    Dry, fine soil,
a reddish Wimmera cracking clay
Location: flat, plain on edge of rural town
My values/ uses for soil to build a mud house:
– Building material for 5000+ bricks to create house, outbuildings and garden walls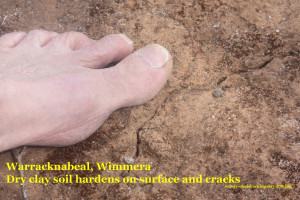 – Mudbrick houses are energy efficient and easy to maintain.
Challenges -with their managements – for soil house building:
– Clay was too fine for bricks so cracked – mixed with imported sand.
– Protecting the clay bricks from weathering – rendering of walls and floors.
– Ageing – any cracks are easily fixed with the addition of more mud and water.
See more
– about manageing clay soil shrinkage and movement in the Box Hill Bridges Soil Selfies from Victoria
– another clay building in the terradome at Dimboola Soil Selfies from Victoria.
– clay sport constructions in the Rifle Butts Soil Selfies from Warracknabeal, Victoria, and BMX circuit Soil Selfies from Adelaide, South Australia
Credits: Interview, photos, editing and page created by Jeanie Clark, enviroed4all®, Warracknabeal, for use in education under a (cc) licence 2015  John and Ros Martin, of Warracknabeal, gives permission for the photos and information to be used under a (cc) license 2015
Return to more Wimmera-Mallee Soil Selfies or other locations
Page published 17 August 2015, updated 10 January 2016