Soil of the lake bed revealed in dry times, Lake Hindmarsh, near Jeparit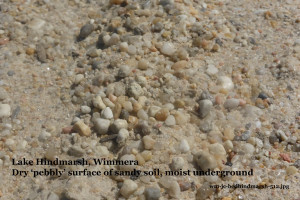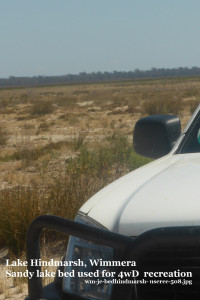 Description:  dry mainly white sand,
a little derived from the death and decay of many pelicans and carp in the last dry event.
Sand is moist within a couple of cm down from the surface
Location: flat bed of Lake Hindmarsh, near Jeparit, Wimmera region
Values for this soil: 
– Landform -Foundation on which lake can hold water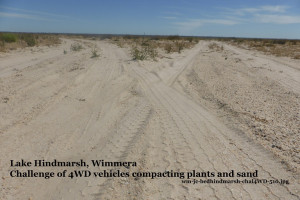 – Habitat production -Supports a native and weed plant habitat when dry, and fauna based on them – especially birds and insects 
– Recreation – Used by 4WD for leisure when dry
Challenges when dry  
– Sands are blown by winds with a dominant direction from the west, growing sand dunes on the east side of the Lake where it is deposited as a lunette. 
– 4WD vehicles compact the surface, which may affect moisture available to the nearly plants  and damage the plant cover where it exists, opening the sandy soil to more wind erosion
There is no intervention management for this soil between dry and wet events. They are natural cycles, but dryer longer in recent years.
See more
– description of exploring this environment from Park notes or Travelling Australia's 18 May 2012 article  
– about issues with tourism on sand in dry environments in these Soil Selfies from Pine Plains in the Mallee and Perry Sandhills in New South Wales, Australia
– 4WD damage that can be done to soils in this Rifle Butts Soil Selfies from Warracknabeal.
Credits: Jeanie Clark gives permission for her photos and information to be used under a (cc) license 2015 Editing and page created by Jeanie Clark, enviroed4all®, Warracknabeal, for use in education under a (cc) licence 2015
Return to more Wimmera-Mallee Soil Selfies or other locations
page set up 23 August 2015, updated 10 January 2016