Sandy loam the base of Apollo Bay P-12 College's garden and food program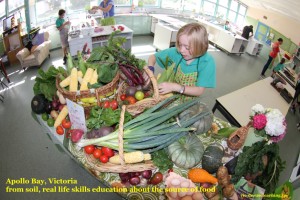 Description: Beautiful rich, friable, productive, healthy sandy loam.
20- 50 cm deep topsoil.
Ideal 6.5 pH for most foods
Location: Almost flat, very slight slope,
on a part of the school not farmed previously, garden began in 2012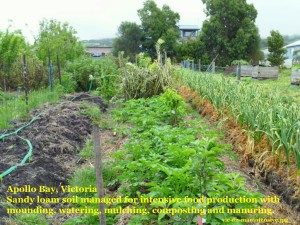 Values for this soil in the education of our students from grades 3 (8 years old) to grade 8 (13 years old):
– Soil is the foundation of life, without it we're stuffed
– Food doesn't grow on supermarket shelves- it comes from soil.
– 'real' life skills
– a wide range of garden tasks, including harvesting and
– cooking the produce just picked for their lunch.
– Healthy seasonal food with no food miles – Lunches of 3 – 4 courses. Nearly 100 meals weekly from our garden.
"……..To love soil requires that we see more than dirt. It requires that we become intimately involved with soil – see its life and its beauty, smell its rich aroma, hear its voice." Kirschenman 1997
Management of the soil for the challenge of intensively growing fresh food for the school community through the year:
– Maintaining 6.5 pH– closely monitored and acidification is remedied with lime (calcium carbonate).
– Replenishing nutrients – Compost (seaweed, pea-straw, autumn leaves), manure, worm juice added throughout the year
– Suppressing weeds, and encourage worms – mulching
– Moisture needs – mulching and watering system and mounded beds
See more about
–  this Apollo Bay school garden  and as LN post discussion
– composting and worms from Beautiful Soil Soil Selfies from Horsham, in the Wimmera-Mallee, Australia
– about involving children in learning about soils from Kilmore vegie patch, Australia
Credits:  Dave Nelson, of Apollo Bay P-12 College, gives permission for these photos and information to be used under a (cc) license 2015
Editing and page created by Jeanie Clark, enviroed4all®, Warracknabeal, for use in education under a (cc) licence 2015
return to Soil Selifes location page
page set up 13 October 2015, updated 9 January 2016