Soil under concrete as floor of an Intermodal Transport Hub, Dooen, Wimmera, Victoria, Australia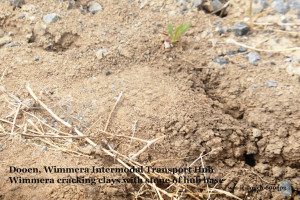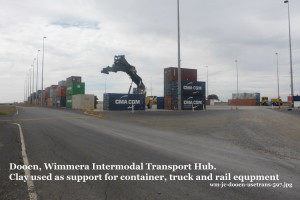 Description:   Grey cracking clay
Location:   Dooen on the flat Wimmera Plains
Values for this soil:
– Support the heavy transport and lifting machinery and containers shipped by truck and rail,  in, out and via at the Wimmera Intermodal Freight Hub, Dooen.


Challenges for stability of tarmac
– stability of covered cracking clays
– open to extremes of weather
Management of the soil for this transport purpose is to:
– cover the clay soil with hard rock layer
– cover this base with a concrete tarmac
See more
– about the construction of this hub especially pp21-24
– about challenges and management for infrastructure set on clays in this bridges Soil Selfies from Box Hill , Victoria
– more clay constructions : for housing in the mud-brick house Soil Selfies from Warracknabeal ;for sport with the BMX circuit Soil Selfies from Adelaide, South Australia.
Credits: Jeanie Clark gives permission for her photos and information to be used under a (cc) license 2015.  Editing and page created by Jeanie Clark, enviroed4all®, Warracknabeal, for use in education under a (cc) licence 2015.
Return to more Wimmera-Mallee Soil Selfies or other locations
page published 30 August 2015, updated 10 January 2016